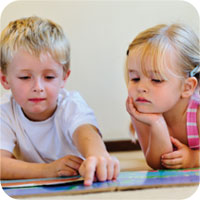 Founders
David Berkelouw
David Berkelouw is a director and partner of Berkelouw Books, one of Australia's leading independent booksellers. He is passionate about books and reading which is lucky given that he was born into a family that have been booksellers since 1812!
He is proud of the role Berkelouw Books provides in the communities in which they are located, in particular the creative writing competitions and story time sessions that have been undertaken with great popularity. He is very aware of the importance of books and reading in the early years of a child's life and regularly observes how those children who engage with books and reading from an early age inevitably become readers and learners for life.
He is father of two young children and is passionate about the lifelong benefits of proper early learning.
David Berkelouw speaks about The Reading Studio from The Reading Studio on Vimeo.