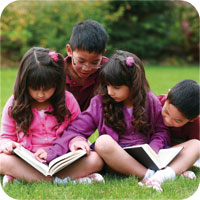 Programmes and Timetable
Our programmes have been developed drawing on peer reviewed, evidence based research on how children learn to read and write.
Our teacher plans weekly activities, where children learn key literacy skills through playing games, participating in art and craft and sharing stories in the relaxed and inviting atmosphere of the Reading Studio. It is the perfect way to give your preschooler a head start and prepare them for the transition to school.
Lesson times:
Ages 3-4: 10:00am - 10:45am
Ages 4-6: 11:15am - 12:15pm
Term 4 2019
Every Thursday during Term 1 2020.
28th Jan - 9th April.
Please contact us if you are interested but the current session time does not suit you.
Programme Information
Our sessions run for 1 hour, in small groups.
Each session is $20 payable on the day.
Contact us to book your first week free!
Email: leichhardt@berkelouw.com.au
Phone: (02) 9560 3200
We do recommend children attend weekly as each lesson progresses on from the last.
You are welcome to drop off your child once they feel comfortable. Please don't forget to sign in when making payment.
Programme Details For Different Ages