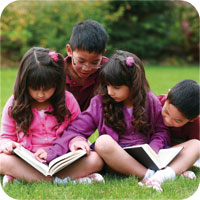 Programmes and Timetable
Our programmes have been developed drawing on peer reviewed, evidence based research on how children learn to read and write.
The first two lessons of Term 3 (29.7.19 & 1.8.19) will be a free trial.
Our programmes teach literacy concepts embedded in literature rich environments. We provide a weekly programme with objectives, indicators, strategies and resources for each age group in order to provide consistency and quality assurance across all our sessions.
Timetable
Lesson time: 12:30pm-approx.1:15pm
Term 3 2019
Mon 29th July + Thurs 1st Aug
Mon 5th Aug + Thurs 8th Aug
Mon 12th Aug + Thurs 15th Aug
Mon 19th Aug + Thurs 22nd Aug
Mon 26th Aug + Thurs 29th Aug
Mon 2nd Sept + Thurs 5th Sept
Mon 9th Sept + Thurs 12th Sept
Mon 16th Sept + Thurs 19th Sept
Mon 23rd Sept + Thurs 26th Sept
Term 4 2019
Mon 21st Oct + Thurs 24th Oct
Mon 28th Oct + Thurs 31st Oct
Mon 4th Nov + Thurs 7th Nov
Mon 11th Nov + Thurs 14th Nov
Mon 18th Nov + Thurs 21st Nov
Mon 25th Nov + Thurs 28th Nov
Mon 2nd Dec + Thurs 5th Dec
Mon 9th Dec + Thurs 12th Dec
Mon 16th Dec + Thurs 19th Dec
Email: leichhardt@berkelouw.com.au
Phone: (02) 9560 3200
Programme Information
Our sessions run for 45 mins – 1 hour, in small groups. Each session is $20 payable on the day. We do recommend at least once a week as each lesson progresses on from the last.
These lessons are drop off/pick up lessons to avoid any distractions.
Programme Details For Different Ages