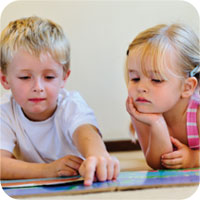 Founders
Robert Berkelouw
Robert Berkelouw is a sixth generation book dealer, and one of three brothers who own and operate 'Berkelouw Books'. As a young boy Robert was introduced to the romance of bookselling by his father Leo and he learnt the trade of dealing in rare books by his father's side. Robert has spent the past 20 years building his family business into Australia's largest network of independent boutique bookshops.
For many years Robert has run storytelling sessions within his shops. During these times he has observed the transformative power of storytelling upon children's imagination and upon their ability to read and to meaningfully engage with the world. Robert has established The Reading Studio so that children and their families may benefit from the important lessons to be learnt from storytelling. To this end, the Berkelouws have partnered with some of Australia's leading professors to create a program which helps children to learn to read in a way which builds a foundation for independent and creative thinking and which engenders reading confidence and self esteem in young children.
Robert lives in Sydney with his wife and two young children.